Have you thought of hiring a private chef to cater meals for your home, business, school, or organization?
If not, then we'd like to show you the many advantages of doing so.
Fresh Flamingo not only runs a meal prep and delivery service, but we also cater to multiple schools all around our area. It's a wonderful blessing for anybody, whether one person or many, in need of nutritious food, without having to spend countless hours buying and preparing it.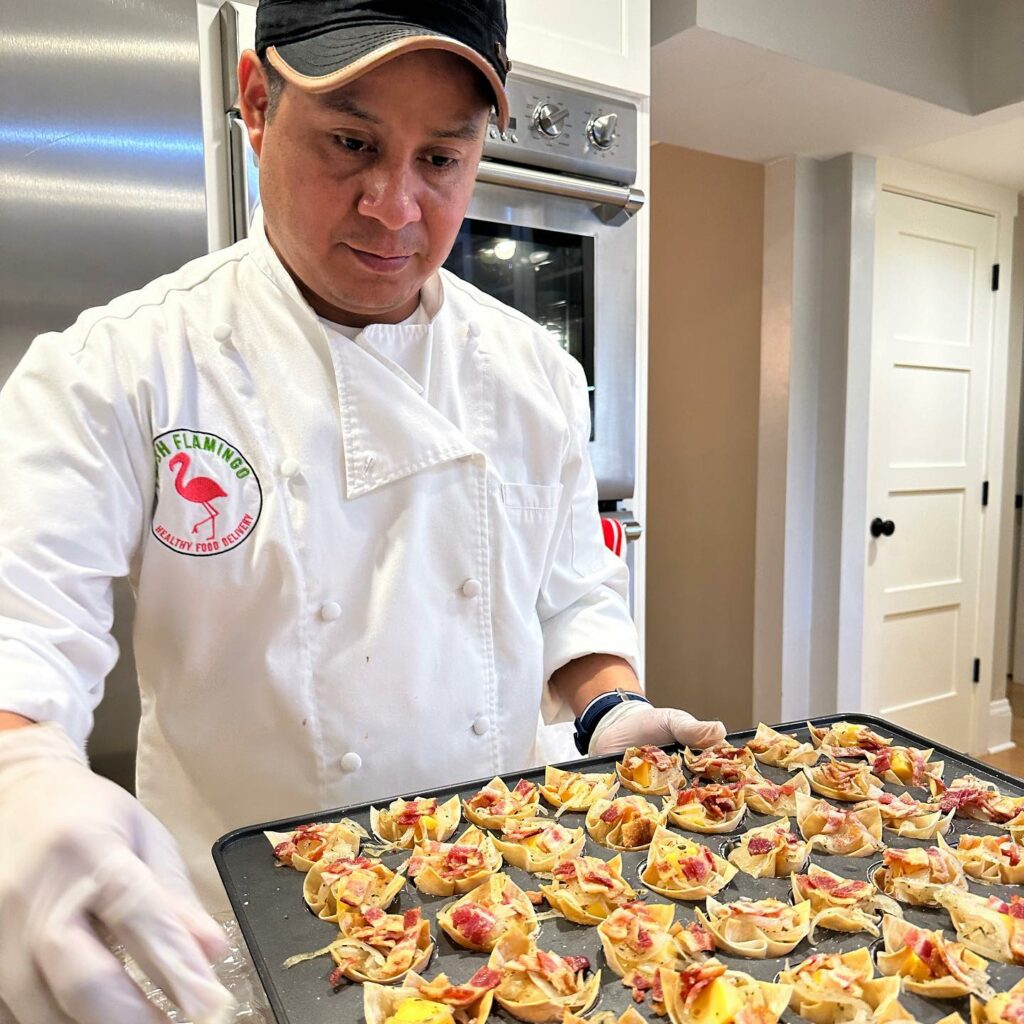 Enjoy a Fully Customizable Menu
We talk to many customers who find shopping at their grocery store overwhelming because there are so many options, many of which are unhealthy and/or unappetizing. Sometimes that's a byproduct of heavy marketing or the store trying to push certain items.
Fortunately, there is an alternative thanks to Fresh Flamingo's lucrative daily menu. We keep a consistent rotation of catering and delivery foods, which are healthy and palatable for a variety of diets. You can enjoy fresh seafood with a Mahi Power Bowl, extra protein with our savory Jamaican Jerk Chicken, or revitalize yourself with all the antioxidants in our Detox Superfood Salad. Those are three of several dozen food choices available for individuals, families, and even large groups.
Say Goodbye to Driving to Get Groceries
Especially if you need to cater for a company event, you don't want to spend forever on all the shopping. Let us take care of that, including all the preparation and cooking. All you have to do is tell us what quantity you need (easy to do on our website or by calling us).
Avoid All the Cleanup
Here's arguably the best advantage to in-person catering: you don't have to do the cleanup after you just enjoyed a large meal. Nobody likes having to force their way through piles of dishes after a party or family gathering. Caterers can take care of everything from food delivery all the way through cleanup.
It's Great for Special Occasions
Like we said, our service works just as well for home-bound senior citizens as it does for birthday parties, weddings, business socials, or any other purpose. If there's an event where lots of people need something to eat, then we can facilitate it.
Those are the top reasons to pursue a private chef catering service. If this sounds like something that would benefit you, then we hope you'll remember the Fresh Flamingo. We help folks in or around Sarasota enjoy nutritious, home-cooked-quality food without having to labor over a stove or wait in line to pay for groceries.
Contact us anytime to learn more about the luxury of private chef catering by calling 941-600-6551.