The holidays are here and it's yet another fantastic time to use food delivery services to better enjoy big meals like Christmas dinner. This can be a stressful time of year with all the shopping for presents and parties to attend.
Why not make life easier by using a delivery service for some of your meals and reduce your time going through yet another store?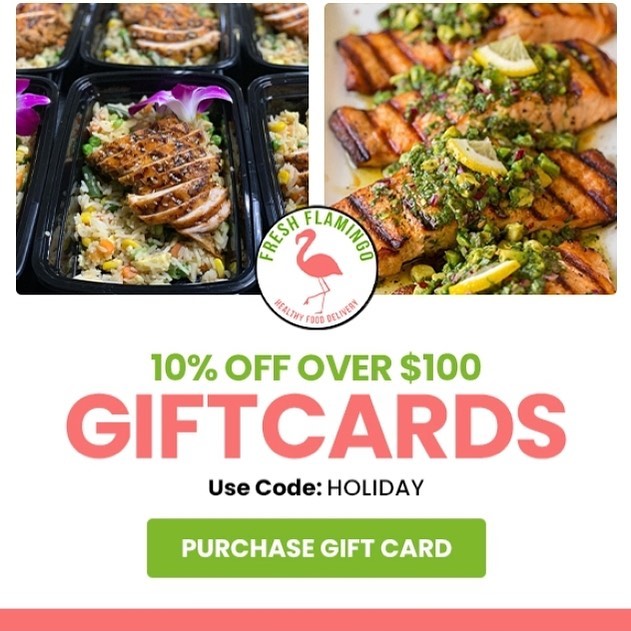 Reduce Holiday Stress
We not only deliver fresh food to you, but our products are also pre-cooked and ready to eat. That doesn't mean we microwave it really fast and chunk it in a box, either. We take care of every meticulous detail so that all you have to do is reheat and enjoy. This is a great way to eliminate at least one or two of the hectic aspects of the holiday season. Over the course of a week, you could easily shave off two or three hours' worth of shopping and food prep.
Plenty of Healthy Choices for You and Your Children
Fresh Flamingo doesn't believe in subjecting anybody to harmful GMO foods, which are all too common in grocery stores these days. Everything on our menu comes from whole-food sources, which are optimal for almost any dietary approach. You can learn more about this by reading our previous post on how to develop healthy habits with our help.
Support a Local Florida Business
Fresh Flamingo is a legitimate small business from right here in Sarasota, FL. If you pride yourself in buying locally, then here's your chance. Patrik, the owner, even performs some deliveries himself and enjoys seeing the smiles of satisfied customers.
You Won't Suffer Boredom with All Our Meal Variety
Check out our daily menu and see for yourself all the culinary variety we provide. This includes everything from Mahi Mahi Taco Bowls to Cheesy Turkey Stuffed Peppers. The best part is that you don't have to spend an hour of your time measuring and mixing the ingredients that go into those fabulous dishes.
If that's not enough to convince you, then don't forget to check out our latest promotional offer. For a limited time, you can get 10% off gift cards (of at least $100 value) when you enter the promo code – holiday. So, now you can save some cash and enjoy all those benefits we mentioned.
Fresh Flamingo wishes you all the best during this holiday season. If you'd like to ask us about anything on our menu or learn how deliveries work, contact us anytime at 941-600-6551.